Get Your Life Back:
The Ultimate Guide to Healing a Herniated Disc
3rd Edition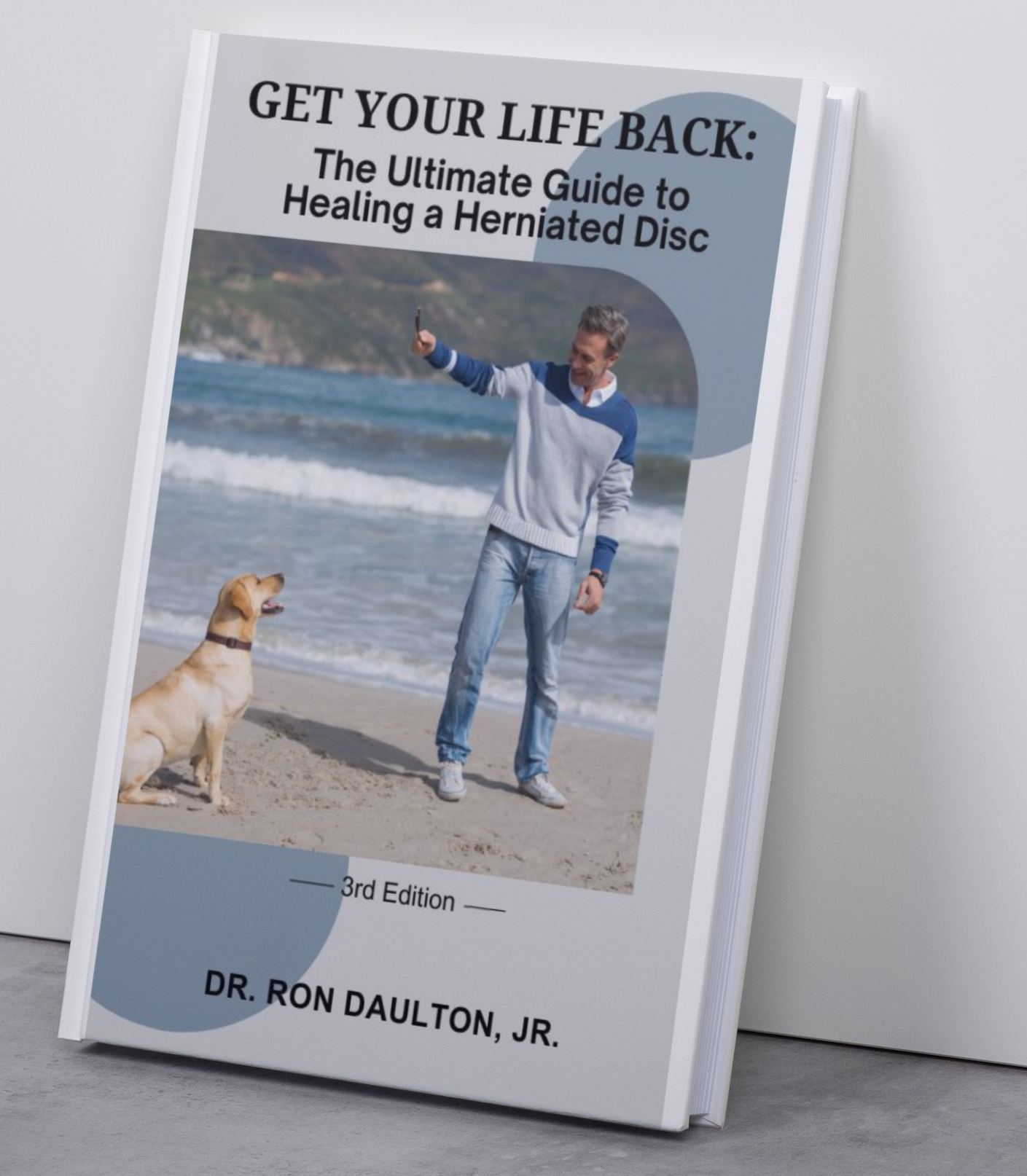 Are you tired of living with the debilitating effects of a bulging disc, herniated disc, ruptured disc, or degenerative disc disease?
If you're seeking a natural and holistic approach to alleviate pain and regain your quality of life, then "Get Your Life Back: The Ultimate Guide to Healing a Herniated Disc" is the book you've been waiting for. This comprehensive guide is designed for individuals like you who are looking for effective solutions and remedies for lasting relief.
Discover a simple, yet powerful step-by-step program that can be easily followed from the comfort of your home.
You'll learn practical techniques, from targeted exercises and stretches to lifestyle adjustments and ergonomic recommendations, tailored specifically to address your disc condition, provide relief, and promote healing.
Uncover a wide range of non-surgical and non-invasive remedies to alleviate pain, strengthen your spine, and support the healing process.
This book provides a comprehensive understanding of the four major spinal disc conditions that can develop, empowering you with the knowledge to address their underlying causes and encourage healing naturally.
Since its initial release in 2007, "Get Your Life Back" has transformed the lives of thousands of individuals struggling with disc-related back pain. Now in its 3rd edition, this updated version offers the latest information and incorporates cutting-edge treatments and therapies.
This book goes beyond home-based pain relief and healing methods. It delves into alternative healthcare and allopathic options, providing you with a well-rounded understanding of the available treatments to support your recovery journey.
Dr. Ron Daulton, Jr., a highly respected chiropractor in Northwest Indiana, brings his extensive knowledge and expertise to this guide. With a Bachelor's degree in Psychology and Pre-Medicine from Indiana University and a Doctor of Chiropractic degree from Palmer College of Chiropractic, Dr. Daulton is well-equipped to guide you on your path to recovery.
He has been recognized for his excellence in teaching and his dedication to natural health care. Driven by a desire to share his expertise, he wrote "Get Your Life Back: The Ultimate Guide to Healing a Herniated Disc" to empower individuals like you to take control of their health.
In "Get Your Life Back," Dr. Daulton adopts a friendly, caring, and knowledgeable tone. He understands the challenges you face and conveys confidence in the effectiveness of the program while offering support and encouragement.
Take the first step towards healing and regaining control over your life. Purchase "Get Your Life Back: The Ultimate Guide to Healing a Herniated Disc" today and embark on a journey of pain relief, recovery, and renewed vitality. Your path to a healthier, more fulfilling life starts here.