Chiropractor Ron Daulton D.C.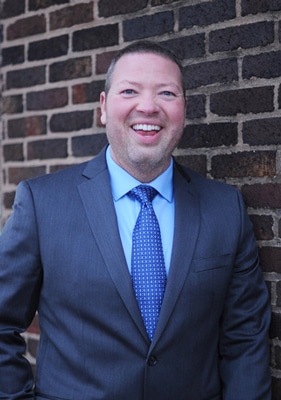 Dr. Ron Daulton, Jr. is the head doctor at Hammond Chiropractic Life Center, Inc. He graduated from Indiana University in 1997 with a Bachelor of Arts degree in Psychology and Pre–Medicine. He then continued his education at Palmer College of Chiropractic in Davenport, Iowa. Dr. Ron completed the 9 year chiropractic program in 7 and a third years, and graduated Summa Cum Laude (highest honors) in October 2000.
In addition to being honored for graduating as the class Salutatorian, Dr. Ron also received many honors for being a teaching assistant in the Anatomy Department, Diagnosis Department, and Palmer College Student Clinic. He was also honored by being selected for membership into Pi Tau Delta (the national chiropractic honors society).
Dr. Ron then continued his education and completed a fellowship in chiropractic pediatrics.
After graduating from chiropractic school, Dr. Ron started in private practice and has been practicing ever since. Although he loves treating patients, Dr. Ron's true passion has always been teaching, and he integrates this into his clinic on many different levels.
Dr. Ron's love for teaching began in chiropractic school where he was selected to be a teaching assistant in 3 departments – Anatomy, Diagnosis, and Student Clinic. After practicing for 1 year, Dr. Ron missed teaching, so he joined the faculty of a massage therapy school in Northwest Indiana and taught Anatomy, Acupressure, and Business Strategies part time while still practicing full time.
In his 4th year of private practice, Dr. Ron was honored to be asked to speak nationally on different health topics. For the next 3 years, Dr. Ron traveled 30 weekends per year, speaking to groups of 400 or more about natural health care.
Dr. Ron is also the author of the book, "Get Your Life Back: The Ultimate Guide to Healing a Herniated Disc," which is now in it's 2nd edition and has helped thousands of individuals suffering with spinal disc conditions experience relief. He created the website, HealYourBulgingDisc.com , which is an excellent resource on the topic of spinal disc conditions as well.
In addition to his academic and teaching honors, Dr. Ron has also served on the board of directors for the Indiana State Chiropractic Association, and is an active member of the organization.
His ultimate vision is to share the knowledge he has gained over the years with as many people as possible, and to help them heal their health condition naturally when possible, but also to give them complete information that will allow them to make educated decisions about their health care choices.
Dr. Daulton speaking at a seminar, educating other doctors on the topic of chiropractic.