Chiropractor Ron Daulton D.C.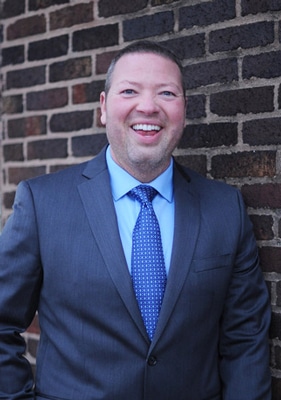 Dr. Ron Daulton, Jr. is the head doctor at Hammond Chiropractic Life Center, Inc. He graduated from Indiana University in 1997 with a Bachelor of Arts degree in Psychology and Pre–Medicine. He then continued his education at Palmer College of Chiropractic in Davenport, Iowa. Dr. Ron completed the 9 year chiropractic program in 7 and a third years, and graduated Summa Cum Laude (highest honors) in October 2000.
In addition to being honored for graduating as the class Salutatorian, Dr. Ron also received many honors for being a teaching assistant in the Anatomy Department, Diagnosis Department, and Palmer College Student Clinic. He was also honored by being selected for membership into Pi Tau Delta (the national chiropractic honors society).
Dr. Ron then continued his education and completed a fellowship in chiropractic pediatrics.
After graduating from chiropractic school, Dr. Ron started in private practice and has been practicing ever since. Although he loves treating patients, Dr. Ron's true passion has always been teaching, and he integrates this into his clinic on many different levels.
Dr. Ron's love for teaching began in chiropractic school where he was selected to be a teaching assistant in 3 departments – Anatomy, Diagnosis, and Student Clinic. After practicing for 1 year, Dr. Ron missed teaching, so he joined the faculty of a massage therapy school in Northwest Indiana and taught Anatomy, Acupressure, and Business Strategies part time while still practicing full time.
In his 4th year of private practice, Dr. Ron was honored to be asked to speak nationally on different health topics. For the next 3 years, Dr. Ron traveled 30 weekends per year, speaking to groups of 400 or more about natural health care.
Dr. Ron is also the author of the book, "Get Your Life Back: The Ultimate Guide to Healing a Herniated Disc," which is now in it's 2nd edition and has helped thousands of individuals suffering with spinal disc conditions experience relief. He created the website, HealYourBulgingDisc.com , which is an excellent resource on the topic of spinal disc conditions as well.
In addition to his academic and teaching honors, Dr. Ron has also served on the board of directors for the Indiana State Chiropractic Association, and is an active member of the organization.
His ultimate vision is to share the knowledge he has gained over the years with as many people as possible, and to help them heal their health condition naturally when possible, but also to give them complete information that will allow them to make educated decisions about their health care choices.
We are happy to introduce our Hammond chiropractor, Dr. Ron Daulton, and his practice, the Hammond Chiropractic Life Center, serving local residents, as well as those who live in the surrounding areas of East Chicago, Gary, Highland, Lansing, Munster, St. John, and South Chicago. Dr. Daulton provides therapeutic techniques to ease your back pain, neck pain, and other painful conditions. In addition, if you have an auto accident injury or work place injuries, Dr. Daulton can determine the right form of treatment for you from chiropractic adjustments to physical therapy techniques.
Chiropractic Services Cover Spectrum of Wellness Care
Our Hammond chiropractor offers advanced chiropractic care, including adjustments and spinal correction techniques. In fact, Dr. Daulton has earned the distinction of Advanced Proficiency in a special technique using a hand-held device for the Activator Method of chiropractic adjustments.
Dr. Daulton is also proficiently skilled in other procedures including the Thompson and Diversified chiropractic techniques. The Thompson Technique represents more classic chiropractic adjustments to restore functionality to the spine and limbs, while the Diversified Technique works with the body's natural biomechanics for gentler adjustments than the traditional method provides.
We augment chiropractic adjustments with a variety of physical therapy procedures. Some of these include electric therapy, cold laser therapy, ultrasound, and Intersegmental Traction therapy. Our chiropractor also teach our patients how to do rehabilitative or corrective exercises at home, which will help stimulate healing and improve overall strength and wellness.
Whatever type of treatment you receive, you can rest assured it will be the proper one to relieve your back pain and neck pain, or pain resulting from work place or auto accident injury, and restore overall freedom of motion.
Injuries and Conditions Our Hammond Chiropractor Treats
In addition to treating some of the most common conditions our patients suffer, such as back pain and neck pain which may simply be caused by overuse, Dr. Daulton also provides therapeutic solutions for herniated discs, whiplash, and related conditions most often resulting from auto accident injury and work place injuries. Other conditions treated include headaches, frozen shoulder, carpal tunnel, fibromyalgia, scoliosis, sciatica, and sports injuries.
Whether you have back pain or neck pain, have sustained a work place injury or an auto accident injury, or have any other types of pain or discomfort, you can benefit from the skilled chiropractic care we provide. We can determine if you need chiropractic adjustments, spinal manipulations, physical therapy, cold laser therapy, or any other form of treatment.
Please let us know how we can best serve you. Call us today at (219) 932-8900 if you have questions or to make an appointment with Dr. Daulton. We look forward to providing you with the most appropriate chiropractic care or physical therapy to help you get back on the road to wellness.